The VI 72-2 power amplifier is our reference amplifier. As a dual mono design it contains all options like controller, regulated supplies and symmetrical construction. The photo might be considered as a preview as it shows the amplifier wihtout glass covers and without surface finish. On the other hand the amplifier already got through different listening tests successfully.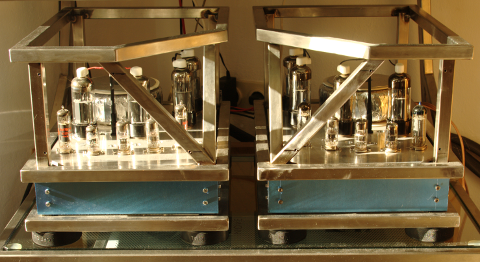 Apart from the design goals described for our platform we take a slightly unusual way to provide excellent sound characteristic and vast independence from loudspeaker properties:
Very low output impedance for best loudspeaker control
High power even at low frequencies
Low intermodulation distortion
These demands require a special output transformer design and considerable effort in the valve stages. On the other hand the above parameters show the greatest difference between amplifiers...
Complete measurements are not finished yet as we feel the need for more research regarding meaningful parameters to be measured. It is clear that harmonic distortion and output power are among the standard figures however these are only a small part of the whole story.
Complete analysis will be provided on this page shortly. In the meantime please find some basic figures below.
| | | |
| --- | --- | --- |
| Output power | 72W | @8ohms or 4 ohms, 1kHz, k≤1.5% |
| Bandwidth | 20Hz..22kHz | +0/-0,3dB @ 16W, k≤1,5% |
| | 50Hz..20kHz | +0/-0,3dB @ 60W, k≤1,5% |
| Disturbance voltage | >92dB | unweighted 5Hz..50kHz, base 72W |
| Gain | 30dB | +/- 0.6dB |
Preliminary measurement data, valid in the whole range given in columns 2 and 3.